A swimming-pool is a complex structure that must be installed with experience. Our patented materials and installation system creates a strong structure that is flexible enough to accommodate any size or shape of pool our customers can imagine.
Sfica Pool
installs a top-quality, reliable and beautiful pool in less time that ever imagine. And we do so with 10 years warranty on our walls, 10 years on our pool liner and 10 years on the filtration system.

We supervise all phases of the construction process; all our customers can rely on our full devotion to all operation that is to be done on your custom pool. All our pools get this kind of attention no matter the budget or size of the project.
Sfica Pool has extensive experience in the construction of pools, being experts in building pools with any size, shape and configuration. The latest techniques allow us to create a luxurious and inviting setting for many great get-togethers. We are able to build pools with very different formats and characteristics: steel pools, fiberglass pools, concrete pools complemented with reinforced liner, the strongest material and better performance today. We handle all phases of the pool construction, which typically includes the following constructive tasks: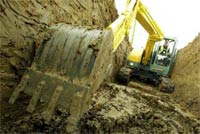 Site preparation and excavation: Pool site preparation is the first step and excavating for an in-ground swimming-pool is the second step in the actual building of pool.
Sfica Pool gets it right, right from the start with our professional pool excavation carried out by our swimming- pool builders.

Regardless of the difficulty of your site in terms of slope, access or soil type, we can carry out your swimming pool foundations with the minimum of fuss and expense.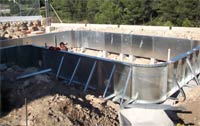 Installation structure: Once, the ground work was prepared we install the structure of the pool with the shape and design chosen, leaving pre-installed pipes for irrigation, filtration, depuration and lightening according to the characteristics of the pool project. For the steel swimming-pools, the structure consists of combination straight and curved panels of galvanized steel. The galvanized steel braces are press locked in place, not only to the back of each wall also on the top and bottom, ensuring that each panel retains its original pre-formed shape. Panels are made from 14 gauge steel with galvanized coating. Both straight and curved wall panels have strategically located holes at both ends ensuring positive and accurate alignments. The end of each panel is made with a recessed end, making for a seamless panel connection. This system also adds additional rigidity to the pool walls.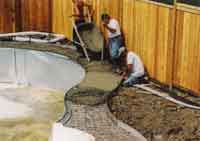 Underground structure: After the structure of the pool was fixed, the reminder of the pool is filled with grave, soil. The ground level should be about two feet lower than the top of the panels. Once buried the structure, is installed pool deck finishes chosen, keeping the spaces required for both, safety of future users and the maintenance and aesthetic pleasure. There is countless number of options available in pool deck finishes.

With our guidance and your point of view you can achieve the look you desire for your swimming-pool.