Sfica Pool
knows in-depth the technique of
reinforced liner installation
for swimming-pools, using this material for many years. It is an excellent material for covering the inner tank of pool, both for its resistance and price.


The reinforced liner has a lot of proprieties that makes it the most suitable material both for construction and repair. We have long experience in the installation and welding of armed liner, being able to provide a completely professional service with the lowest budget possible because we are working with the best suppliers of liner on the market.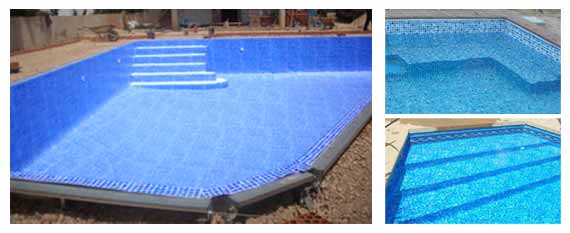 Pool liners are made of reinforced liner and designed to create a water tight barrier to hold water in a swimming-pool. Welds between layers of liner are made with the patented snap-lock system that offers security lock getting a perfect fitting liner in the corners of the pool. Welds are imperceptibles even in the smallest details, obtaining a perfect aesthetic result.

There is a big difference between a vinyl liner and reinforced liner: the THICKNESS or gauge of the liner. We guarantee that the thickness of our liner is one of the best on the market. Our reinforced liners 150/100 are composed of two layers of reinforced 75/100 PVC welded together, with a polyester fabric between that makes it very resistant. Made from 150/100 our sturdy liners are thicker and more durable than standard liners.